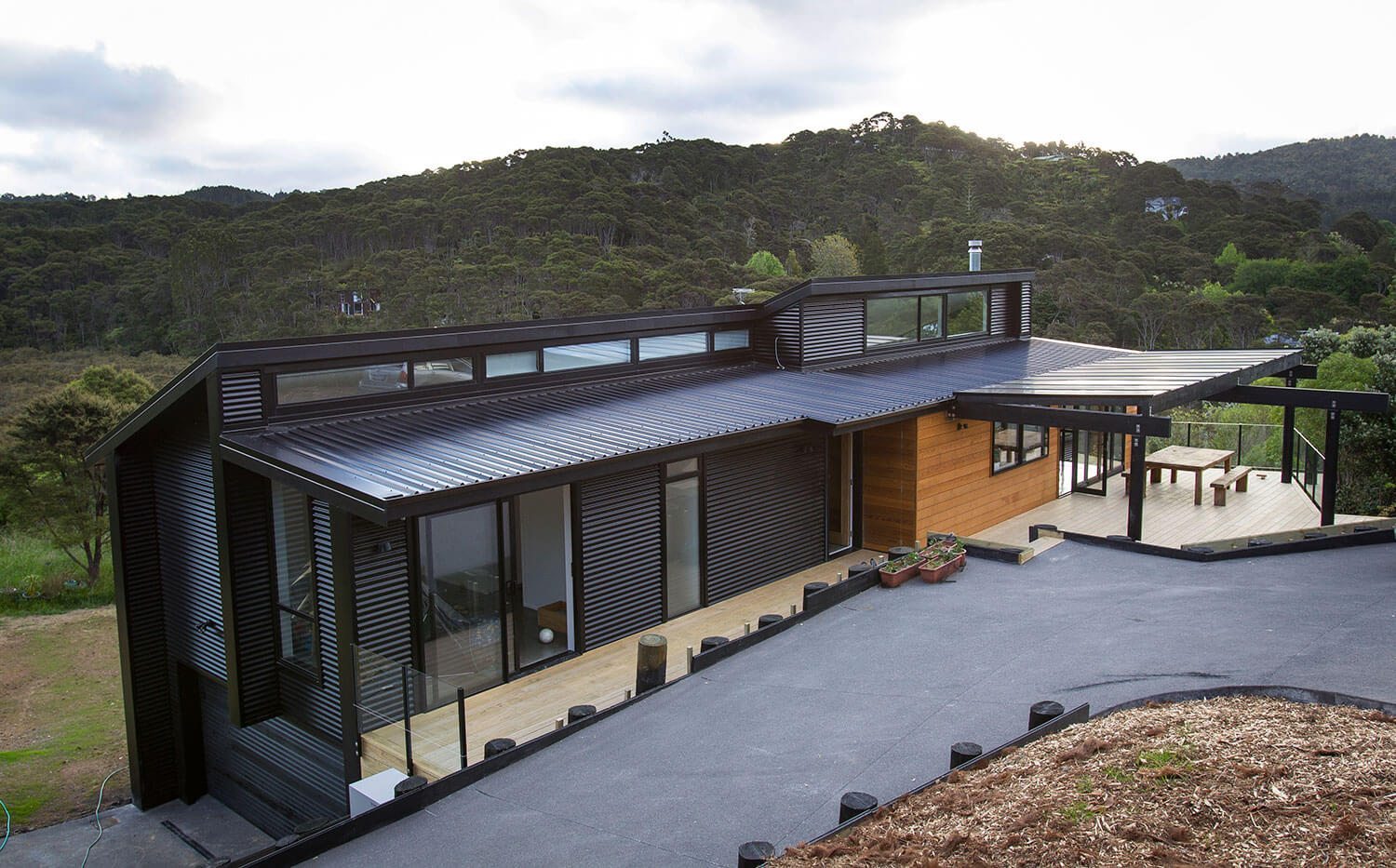 Queensland Sheet Metal is your local supplier of MagnaFlow™ metal roofing. If you're looking for a revolutionary roofing, fascia and guttering product, look no further than our MagnaFlow™ range.
MagnaFlow™ products are designed to deliver high performance and an excellent product life. Its ground-breaking technology enables it to self-heal surface damage, making it suitable for any environment.
Off White

Birch
Armour Grey
Slate Grey
Monolith
Product Overview
MagnaFlow™ is a multi-layered roofing system made up of three sections:
Top layer: Zinc/Aluminium/Magnesium
Middle layer: Steel substrate
Bottom layer: Zinc/Aluminium/Magnesium
Self-Repair – How MagnaFlow™ Works
MagnaFlow™ is a major breakthrough in modern roofing, featuring a range of practical benefits and applications:
MagnaFlow™ products are designed to self-repair.
Microscopic amounts of magnesium flow into scratches and form a seal over the damaged area.
This seal means the roof is protected from water, oxygen and other sources of corrosion.
The name MagnaFlow™ is derived from the products ability to flow and repair itself.
The self-repairing characteristics of MagnaFlow™ also prevent the spread of corrosion in roofing. This maintains the integrity of the roofing panels and reduces maintenance and replacement costs.
Durability and Resistance to Environmental Conditions
MagnaFlow™ resists all the typical factors that cause metal roofing deterioration. This product has been specifically designed to deliver exceptional quality standards in the very toughest environments.
MagnaFlow's impressive resistance qualities include:
Scratch resistant
Corrosion resistant
Impact resistant
Heat resistant
Bend resistant
Humidity resistant
Marine climate/ salt spray resistant
Bend resistant
UV resistant
Product Benefits
MagnaFlow™ products deliver excellent value and cost efficiencies:
Long product life
Suitable for all kinds of demanding environments
Reduced maintenance and replacement costs
Measurably reduced roofing corrosion and deterioration
Australia/New Zealand Standard compliant
Measured according to ISO standards for product performance
Risk management solution for large commercial roofing areas
The Queensland Sheet Metal MagnaFlow™ Product Range
This innovative product range is perfect for tough Queensland conditions, from the coastal cyclone zone to the outback areas and inner city Brisbane.
Our MagnaFlow™ products include:
Roofing
Wall cladding
Guttering
Downpipes
Ask Us about MagnaFlow™
At Queensland Sheet Metal, we're here to provide all the roofing supplies and services you need. From product supply to installation, we'll be here for you. Talk to us about MagnaFlow™ products for your home or commercial premises. We can provide you with a range of superior roofing supplies.
Speak directly with our representatives to discuss your next project and your roofing needs. Call us on 07 3267 1010 or contact us online. We'll be happy to provide any technical advice, support or guidance you need.