Polycarbonate translucent roof sheeting is used Australia-wide as a popular shading option for exteriors. Our range is ideal for use with carports, patios, and anywhere you need sun protection.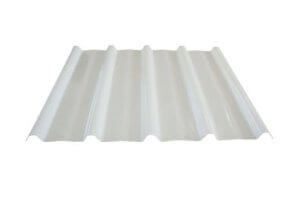 Fibreglass is the preferred option in many environments for its exceptional toughness and adaptability to different roles. This range of roofing supplies includes multiple design choices.
Types of Translucent Sheeting
Translucent sheeting are specially designed roofing panels that combine the strength and durability of a traditional metal roofing panel, but with the same light qualities of frosted glass. They are an ideal addition to any outdoor structure, such as a pergola, carport, or patio cover. They provide great cover and shade from the sun, but also keep an area well lit and bright.
Queensland Sheet Metal offers translucent sheet metal in two varieties:
Translucent sheeting is available in a wide variety of profiles to match any existing roofing. Polycarbonate sheeting is available in Corrugated, Greca and Five Rib profiles and Fibreglass in available in these same profiles along with many more. The opaque quality perfectly matches up with any colour scheme or exterior look of your home or garden.
Commercial Applications
With the low thermal expansion and easy installation, translucent sheeting is a reliable addition to any commercial roof without a significant impact on normal costs. Commercial grade translucent sheeting can be manufactured into many different sizes to accommodate every sized project or building. They are also extremely tough and durable with high marks in resistance testing towards hail, storms, high winds and heavy rain.
In addition to its great application in residential uses, translucent sheeting is essential in commercial and industrial jobs. Adding panels of translucent sheeting in warehouse roofing is a great way to add natural lighting and reduce energy usage.
Ask For Our Complete Catalogue
For more information on translucent sheeting or our great range of roofing products, contact Queensland Sheet Metal and Roofing Supplies Pty Ltd for our complete catalogue. We are an Australian owned and operated business, proudly located in Brisbane, QLD.
Our friendly and dedicated staff are looking forward to helping you with all of your Brisbane roofing and building needs. Call 07 3267 1010 today for more information.