We can manufacture from Colorbond® steel, Zincalume®, galvanised, stainless steel and copper. Ask us about prices and your range of colour options.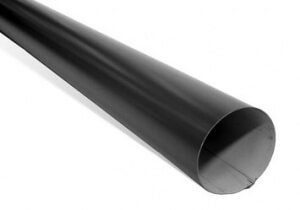 These tough, elegant downpipes are great for home upgrades and superior performance. They are high-quality, long-life rainwater goods.
Our PVC downpipes are compatible with a range of premises and other rainwater goods. They offer excellent value and work well with a range of downpipe fittings and rainwater accessories.
Downpipes and Fittings to Protect Your Home
Since 2003, Queensland Sheet Metal have been designed and manufacturing our very own downpipes. The role of downpipes is to protect your home from rainfall by ensuring that the build-up of water is directed away from the important parts of your home such as walkways, windows, doors and electrical fixtures. Ongoing rain damage can contribute to decay of these parts of your home and can create great danger when it comes to contact with electrical fixtures.
Downpipes are fitted to the roof of your home as a part of the gutter system. They are the vertical pipes that extend from the bottom of the gutter and down into a drain at ground level. You also have the option of channelling the resulting run off into a water collection tank.
Our Selection of Downpipes
Our downpipes come in many different shapes and sizes, depending on what your exact needs are.
Our classic pipe is the round downpipe and is available in many possible diameters, with the most common being a 90mm downpipe. We are able to cater for industrial and residential purposes.
Our other most popular type of downspout is the square variety. Square drain spouts give a clean, modern look and are able to neatly fit against a wall for best results. These are also available in a wide range of shapes and sizes with the most popular being a 100x75mm downpipe.
Queensland Sheet Metal is able to craft a custom pipe of many sizes, depending what specifications your dwelling has.
A Tradition of Excellent Manufacturing
Our experienced team of professional tradesmen can design and manufacture a wide range of different kinds of roofing products. With the greatest craftsmanship and all the latest tools and technology, our team are certain to deliver a first rate product.
To find out more about our downpipes contact us today.