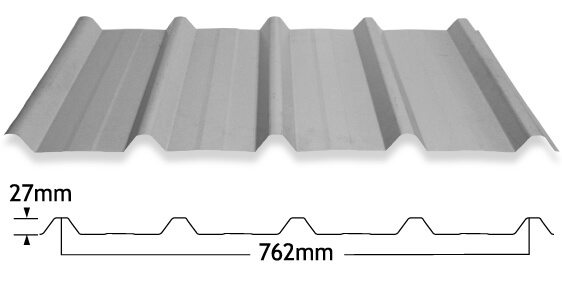 Five rib roof sheeting is a great sheeting option for all your roofing and walling needs in Brisbane. Made for a wide range of applications across domestic and commercial projects, five rib roof sheeting has a range of great benefits. Five rib roofing is made to last and is well known in the roofing industry for its versatility and reliability.
It is tough, cost-effective and superb for design purposes. Our five rib sheeting is available in our wide range of Colorbond® Steel colours and Zincalume® made from Australia's own Bluescope Steel.
Available Colours
Benefit from the Versatile Five Rib Roof Sheeting
Five rib roof sheeting has such a wide variety of great benefits, making it appropriate for Brisbane's domestic and commercial market. Its benefits include:
Go flexible with Five Rib – Five rib roof sheeting is a high tensile roof and wall sheeting product. Choose the roof and wall solution that adapts to your needs.
Easy to install – Five rib roof sheeting is strong, yet lightweight, making it easy to use and easier to install. Get the best value and don't sacrifice durability or simplicity.
Industrial ready – If you need five rib sheeting for industrial applications then you're in luck. Five rib is widely used for industrial applications, making it a great product for your next job.
Made to withstand the weather – When it comes to roofing supplies in Brisbane or Queensland, you need something that can withstand extremes. Five rib sheeting has great weather resistance qualities, whether it's for rain, hail or shine.
Queensland Sheet Metal cut five rib sheeting to length to suit your requirements; large or small. Available in base metal thicknesses of either 0.42 or 0.48.
Read our article and see why you should choose metal roofing – 5 great advantages of sheet metal roofing.
For detailed information on the five rib sheeting, please view or download our five rib brochure below.
Fastener Selection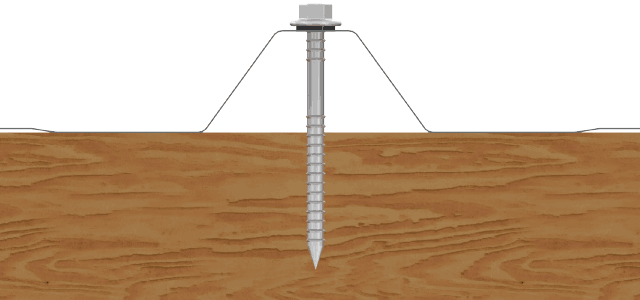 12 x 65 Type 17 or 13 x 50 Zip
To be used for fixing five rib roofing into timber
13 x 50 Zip or 12 x 45 SDS
To be used for fixing five rib roofing into metal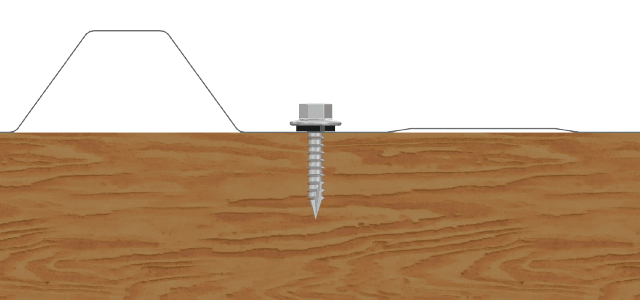 12 x 25 T17
To be used for fixing five rib walling into timber
10 x 16 SDS
To be used for fixing five rib walling into metal
Additional Information
It's easy to install five rib roof sheeting and it's appropriate for a wide range of industries and applications across Brisbane. To make the job even easier, here are a few helpful tips:
Five rib sheeting should be laid facing the prevailing wind.
Ensure that each sheet has a good, accurate join to previously laid roof sheet.
Look out for gaps; ensure each sheet is carefully laid.
Five rib sheets need to be laid with appropriate support spacing to ensure a strong join.
Do not bend or otherwise stretch sheeting, which may allow in water and wind.
Ensure sheeting is weather proofed and properly sealed. Also ensure the overlaps are secure, particularly during roofing work.
Flashing turn downs on five rib sheeting should be notched tightly around the rib to ensure maximum weather tightness.
Pan fixing for five rib is only recommended for applications such as carports or patios, when weather tight roofing is not essential.
Side lap fasteners need to be secured in the mid-span when spans exceed 900mm for roofing or 1200mm for walling.
Secure with appropriate fasteners as per descriptions below.
At the end of the roof sheets, the pans should be turned up at the crest of the roofing and down into the gutter.
Contact us any time to make an enquiry, a purchase or to simply learn more about our products. Call 1300 926 074 today.
Roof Laying Procedure
Prevailing Wind > < Laying Direction

Wall Laying Procedure
Prevailing Wind > < Laying Direction

Fastener Positions
Roofing: One fixing per crest

Walling: One fixing per pan, fasten adjacent to the overlapping rib
Spans (mm)
| BMT | Application | Span Type | Wind Class N1 | Wind Class N2 | Wind Class N3 |
| --- | --- | --- | --- | --- | --- |
| 0.42 | Roofing | Internal | 1700 | 1700 | 1700 |
| 0.42 | Roofing | Double | 1350 | 1350 | 1350 |
| 0.42 | Roofing | End | 1350 | 1350 | 1350 |
| 0.42 | Walling | Internal | 3000 | 3000 | 2700 |
| 0.42 | Walling | Double | 2900 | 2250 | 1950 |
| 0.42 | Walling | End | 2900 | 2250 | 1950 |
| 0.48 | Roofing | Internal | 2300 | 2300 | 2300 |
| 0.48 | Roofing | Double | 1700 | 1700 | 1700 |
| 0.48 | Roofing | End | 1700 | 1700 | 1700 |
| 0.48 | Walling | Internal | 3000 | 3000 | 3000 |
| 0.48 | Walling | Double | 3000 | 2700 | 2550 |
| 0.48 | Walling | End | 3000 | 2700 | 2550 |