Mini corrugated sheeting can be used for a wide range of commercial, residential and industrial purposes.
The aesthetically pleasing profile of mini corrugated is perfect for use on walls, awnings, ceilings and soffits.
Our mini corrugated products can be ordered in a range of different Colorbond colours and in its base Zincalume form.
Available Colours
The Unique Benefits of Mini Corrugated Products
Our mini corrugated sheeting has a low height of only 6mm, meaning that the material is certain to provide stunning visual appeal when contrasted against flashing or capping. This low height also means that it has 825 mm coverage, reducing the number of sheets that you need to install, saving you time and money.
With a host of different colours available, this sheeting can also be used in design. Many designers are harnessing its charm and versatile design to use it as a walling material.  Give your Queensland home a cosmopolitan industrial twist with our selection of sheeting options.
Fastener Selection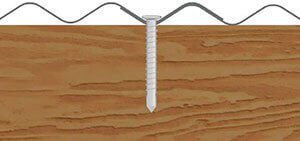 12 x 25 T17
To be used for fixing mini corrugated walling into timber
10 x 16 SDS
To be used for fixing mini corrugated walling into metal
Additional Information
If you are looking to install this product yourself, it is essential that you have two people for the entire installation process. You should ensure that the supporting structure always remains as rigid and flat as possible, while also making sure that sheets are overlapped by a minimum of one and a half corrugations.
When installing the sheeting, it is possible to place the sheet with the corrugations running vertically, horizontally or at an angle. Fasteners should be spaced as according to the relevant recommended spans as listed below.
To install mini corrugated sheeting:
Determine how many sheets are required taking into account the relevant spacing
Begin by fixing the sheet at the centre of one edge, working out towards the other end of the sheet
Place fasteners parallel with the first row, making sure that the sheet remains straight along the top and bottom edges
Never flatten the corrugations through excessive force when installing the screws – this can make the sheet wider and change the measurements
Wall Laying Procedure
Prevailing Wind  >                         <  Laying Direction

Fastener Positions
Valley Fixing: Six fasteners every sixth valley

Material Specifications
| Material Properties | Finish | 0.35BMT | 0.42BMT | 0.48BMT |
| --- | --- | --- | --- | --- |
| Total Coated Thickness (TCT)mm | Zincalume® | 0.4 | 0.47 | 0.53 |
| Total Coated Thickness (TCT)mm | Colorbond® | 0.415 | 0.485 | 0.545 |
| Mass (kg/linear metre) | Zincalume® | 2.74 | 3.26 | 3.7 |
| Mass (kg/linear metre) | Colorbond® | 2.8 | 3.32 | 3.76 |
| Mass (kg/square metre) | Zincalume® | 3.32 | 3.95 | 4.48 |
| Mass (kg/square metre) | Colorbond® | 3.39 | 4.02 | 4.56 |
| Yield (square metre/tonne) | Zincalume® | 301 | 253 | 223 |
| Yield (square metre/tonne) | Colorbond® | 295 | 249 | 219 |
| Tensile Strength (MPa) | Zincalume® & Colorbond® | 550 | 550 | 550 |
| Width Coverage (mm) | Zincalume® & Colorbond® | 825 | 825 | 825 |
| Sheet Tolerances (mm) | Width | ±4 | ±4 | ±4 |
| Sheet Tolerances (mm) | Length | ±0 ±15 | ±0 ±15 | ±0 ±15 |
Spans (mm)
Maximum Recommended Spans for Walling (mm)
| Span Type | 0.35BMT | 0.42BMT | 0.48BMT |
| --- | --- | --- | --- |
| Single | 800 | 900 | 1000 |
| End | 900 | 1000 | 1100 |
| Internal | 1000 | 1200 | 1300 |