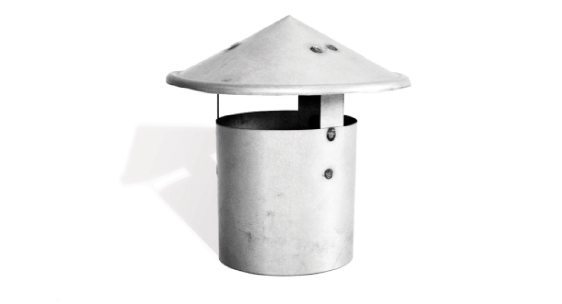 Chinaman's Hats are custom made at Queensland Sheet Metal to your specific size and dimension requirements to ensure a neat fit for any specialised job.
When rain water enters a chimney and mixes with the internal creosote on the way down, it can create an unpleasant, smoky smell. Chinaman's Hats can prevent birds, water and smoky smells from entering your building and have been used for generations as a durable roofing accessory.
Chinaman's Hats come in standard sizing options for ease of ordering or can be customised to suit your needs. We have a comprehensive range of sizes, from 100mm to 250mm, suitable for any roof. These products are available in Colorbond® Steel, Zincalume® and Galvanised. 
Our Range
Our range of Chinaman's Hats is the latest of these traditional roofing assets. We have a vast range of colours for colour matching, including modern and traditional colours.
If you're upgrading your roofing, you can coordinate your Chinaman's Hats, flashings, fascia and guttering using our vast colour range. See our colour range below to match Colorbond® roofing, or as an effective colour mix with other roofing.
Ask Queensland Sheet Metal for Any Help You Need
Call Queensland Sheet Metal for friendly service, and practical help you need with your Chinaman's Hats and other roofing accessories. Our experts will be happy to advise and provide any services you need. Place your order, give us a call, or contact us online.