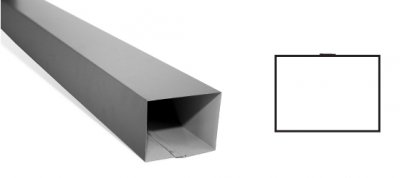 We produce square and rectangular downpipes that are available in many sizes to suit any application for industrial and residential buildings. These downpipes are available in a range of Colorbond® Steel colours, Zincalume®, Galvanised, stainless steel and copper.
Additional Information
As a general guide, in non cyclonic areas, for every 1m² of roof area drained, 70mm² of downpipe is required. This calculation is based on the assumption that the maximum rainfall does not exceed 125mm per hour.
It is considered the best practice to drain to different points, using smaller downpipes rather than to one large outlet. Where possible, downpipes should be spaced at not more than 12000mm centres.
Profile
BMT (mm)
Tensile (MPa)
Size A x B (mm)
Roof Area Drained (m2) 
0.55
G300
50 x 50*
35
75 x 50
55
75 x 75
80
95 x 45
60
100 x 50
70
100 x 75
105
100 x 100
140
125 x 100
180
150 x 100
210
150 x 150
320
200 x 200
570
*1800mm lengths only
Note: Customised sizes are available upon request.
Metal Downpipe Essentials from Queensland Sheet Metal
Your choice of downpipe is very important for your roof drainage and guttering. If you plan on upgrading your roof, replacing downpipes or are looking at your roofing options for a brand-new home, explore our range. We also offer a complete range of downpipe accessories, such as downpipe elbows, downpipe offsetsand brackets, built to cover all of your needs.
Colour Choices
Downpipe colours can be colour matched to any traditional or modern home with our vast selection of the latest and mainstream designs. Explore our range and choose the perfect colours to go with your roof and guttering.
Talk to Queensland Sheet Metal about Downpipes!
Queensland Sheet Metal is your do-everything, all-round, one-stop shop for metal roofing supplies in Brisbane. For any help you need with product selection, just call us on 07 3267 1010 or contact us online. Better yet, come in to our store, and see our range.
Speak directly to our experts about your downpipes, roof flashings, and guttering. Ask us about roofing accessories, like flashings, metal fascia and Colorbond® products. We'll be happy to assist.