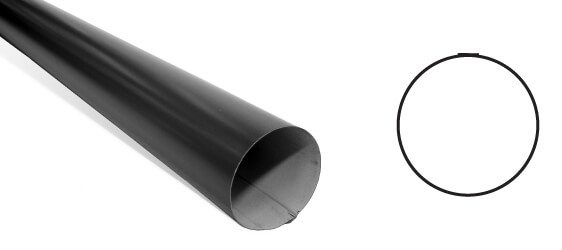 Queensland Sheet Metal produce round downpipes that come in a range of different diameters to suit both industrial and residential buildings. 1800mm and 2400mm lengths are available in a range of Colorbond® Steel colours, Zincalume®, Galvanised, Stainless Steel and Copper.
Additional Information
As a general guide, in non cyclonic areas, for every 1m² of roof area drained, 70mm² of downpipe is required. This calculation is based on the assumption that the maximum rainfall does not exceed 125mm per hour.
It is considered the best practice to drain to different points, using smaller downpipes rather than to one large outlet. Where possible, downpipes should be spaced at not more than 12000mm centres.
Profile
BMT (mm)
Tensile (MPa)
Size A x B (mm)
Roof Area Drained (m2)
0.4 & 0.55
G300
50
30
65
45
75
65
90
90
100
115
125
170
150
250
175*
345
200*
450
225*
570
*1800mm lengths only
Note: Customised sizes are available upon request.