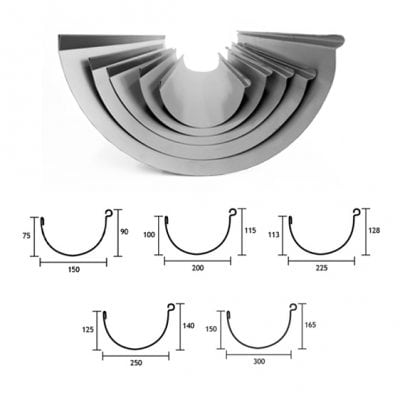 The Big Half Round Gutter is attractive and low maintenance, with no corners to trap leaves, twigs and debris so the water runs smoothly and the gutter stays relatively clean.
The Big Half Round Gutter can handle a lot of rainwater, making it a suitable choice for high rainfall areas and buildings with large roofs.
The Big Half Round Gutter is available in a range of colours to match your building's trim, and it has external brackets.
Available Colours
Features
Modern, curved shape ideal for all building designs, particularly Spanish and Tuscan style
150mm wide to cope with heavy downpours and water flow
Available in 200mm, 225mm, 250mm, and 300mm
Efficiently channels all water to the middle of the gutter and away from the building
Great for commercial buildings or large roofs due to its increased flow capacity
No angles or corners to trap leaves and debris so you spend less time on maintenance
No external brackets for clean lines and ease of painting
Comes in a range of colours, or unpainted zinc or aluminium
A range of accessories are available to complement its good looks
Affordable and easy to install
Talk to the Experts at Queensland Sheet Metal
When it comes to choosing the right roofing products for your business, you can rely on Queensland Sheet Metal to provide professional advice for all your roofing requirements. With more than 30 years of experience, we can manufacture and supply everything you need for your business. Call us on 1300 926 074 or contact us online.
Accessories