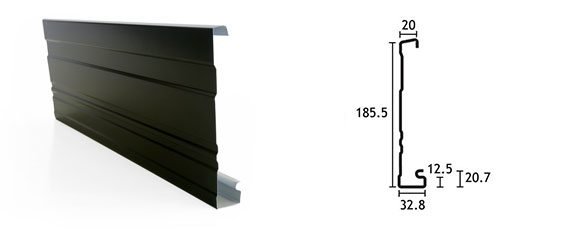 Metal fascia is used as an alternative to timber fascia to cover the ends of rafters or other fittings in your buildings structure. It requires minimal maintenance and is more economical than timber fascia.
Suitable for both classic and modern homes, our metal fascia will ensure that your home has a nice crisp finish, as well as extra protection. Metal Fascia will not crack or warp and is both stylish and easy to install.
Available in the full range of Colorbond® Steel colours as well as a Zincalume® finish.
Available Colours
Making a Lasting Investment
Metal fascia features durable properties and consistent quality, helping to protect your roof in the long term. Compared to timber, steel fascia is made to last and reinforce your roof.
If you live near the coastline your fascia may need some extra protection. For properties within 100 metres of salt water, Colorbond® Ultra can help to protect against corrosion. Similarly, buildings that are located close to industrial environments may need extra corrosion protection.
Our Designs
Our fascia uses only the finest Zincalume® and Colorbond® steel, which meets the building requirements in Queensland. These materials have been tested to provide the greatest possible durability and performance.
Fascia Accessories
We also have a selection of accessories to match our metal fascia. The following accessories are available:
Rafter Brackets
Joiner Plates
External Corner
Internal Corner
Snap Clip
For more advice on how to best set up your fascia and what is right for you, contact the team at Queensland Sheet Metal today.
Accessories