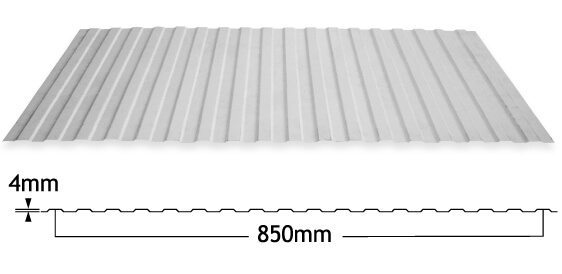 When you are looking to renovate, repair, or build from scratch you can rely on our ribbed sheeting.
Perfect for a range of at home applications, mini rib sheeting can refresh your designs and provide many practical benefits.
Available Colours
The Mini Rib Difference
With its subtle design and immense practicality, mini rib wall sheeting is perfect for many different applications, including:
Ceilings
Walls
Garages doors
Barge boards
Mini rib structures provide a great point of difference in both interior and exterior design. It has a wide coverage of 850 mm and a low height of 4 mm, meaning that you can use less sheets to ensure greater efficiency due to the use of less fasteners.
Your new sheeting can be cut into custom lengths to suit your individual needs. It should be noted that this kind of sheeting is not to be used for roofing.
For further popular roofing options, please investigate our corrugated or five rib roofing profiles.
Fastener Selection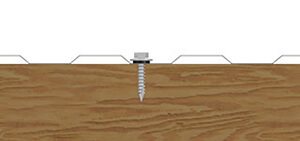 12 x 25 T17
To be used for fixing mini rib walling into timber
10 x 16 SDS
To be used for fixing mini rib walling into metal
Additional Information
Fixing Information
For overlapping or edge lap applications, use side lap fasteners at every 200mm to 300mm centres.
When using end laps, allow at least 75mm per lap.
Fasteners should be placed at the side or adjacent to it.
To ensure a quality finish, fasteners at the ends of Maxirib sheets should be placed in every second valley.
For intermediate support applications, it is recommended that four fasteners be used at equal spacings across the sheet.
For fastening the Stratco Maxirib to steel supports of up to 5mm thick, use 8 x 12mm wafer head self drilling and tapping screw or 4.8mm aluminium blind rivet.
For fastening to timber, use 2.8mm x 25mm clout, or 8 x 25mm pan head self tapping wood screw.
Fixing and Laying Directions
The following recommendations apply to non-cyclonic areas.
All fasteners must have neoprene washers to prevent water penetration.
Side lap fixing is recommended at no greater than 300mm centres for external applications. For internal applications where support spacings exceed 1000mm it is recommended side laps are fastened mid-span. Use either 8×12 mm self drill stitching screws (with seal) or 3.2 mm sealed blind rivets.
The below fastener sizes are suitable for fixing over an insulation blanket up to 55mm thick. For thicknesses up to 100mm, the next standard screw length to that indicated is to be used.
Wall Laying Procedure
Prevailing Wind  >                         <  Laying Direction
Fastener Positions
Walling: Fastener Location
Material Specifications
| Material Properties | Finish | 0.42BMT |
| --- | --- | --- |
| Total Coated Thickness (TCT)mm | Zincalume® | 0.47 |
| Total Coated Thickness (TCT)mm | Colorbond® | 0.5 |
| Mass (kg/linear metre) | Zincalume® | 3.26 |
| Mass (kg/linear metre) | Colorbond® | 3.32 |
| Mass (kg/square metre) | Zincalume® | 3.84 |
| Mass (kg/square metre) | Colorbond® | 3.91 |
| Yield (square metre/tonne) | Zincalume® | 260.7 |
| Yield (square metre/tonne) | Colorbond® | 256 |
| Tensile Strength (MPa) | Zincalume® & Colorbond® | 550 |
| Width Coverage (mm) | Zincalume® & Colorbond® | 850 |
| Sheet Tolerances (mm) | Length & Width | ±5 ±2 |
Spans (mm)
| BMT (mm) | Span Type | N1 (W28) | N2 (W33) | N3 (W41) |
| --- | --- | --- | --- | --- |
| 0.42 | Single | 1200 | 1100 | 900 |
| 0.42 | End | 1350 | 1200 | 1000 |
| 0.42 | Internal | 1350 | 1200 | 1000 |
| 0.42 | Overhang | 150 | 150 | 150 |