Queensland Sheet Metal is proud to present our brand-new range of architectural cladding. The Pinnacle Range consists of four stylish profiles that have been inspired by the latest European designs. These strong, bold textures suit any architectural design and create a stunning finish on any structure.
Metal cladding is used to cover the exterior of a structure, offering a protective layer against the elements and environmental conditions. The Pinnacle Range is durable, safe, and low maintenance. Not only do these sheets protect the structural integrity of your building, they also give you the opportunity to make a stylish statement.
How to Choose Your Architectural Cladding
There are a few things to keep in mind when choosing the materials for your home, including:
Our homes need to be built to last
Low-maintenance solutions will make life easier in the long term
Our homes reflect our personal style and tastes
We need protection from the harsh Australian climate in both summer and winter
Building materials need to blend in seamlessly with the home, creating a relaxing space to live
Our homes need to be safe
The Pinnacle Range for Modern Roofing
At QSM, we're focused on creating contemporary beauty in steel. Choose a design from the Pinnacle Range for an evidently beautiful finish on any structure. The entire range is non-combustible, tested in accordance to AS 1530-3. Each design is available in a variety of finishes, including Colorbond®, Magnaflow™ and UniCote® Lux.
With deep, slender ribs and wide, flat pans this cladding will make a bold statement. It uses a concealed fixing system for a clean finish and it can also be tailored to your own specifications.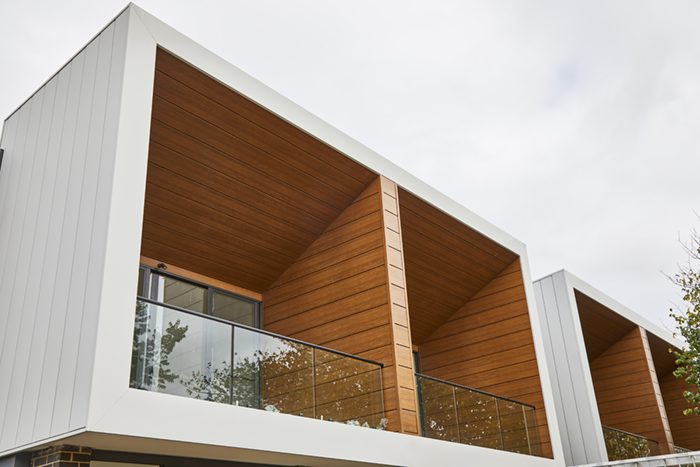 This versatile panel design can run vertically or horizontally and is a stylish choice. Horizon provides an aesthetically pleasing contemporary solution for any structure.
Alpine is made up of broad flat pans and tall slender ribs to create an eye-catching, clean design. This panel has the option of two different fixing systems which allows the panel to be used for either roof or wall cladding.
Contact QSM for Design Assistance Today
Queensland Sheet Metal and Roofing Supplies is an Australian company that is family owned and operated. If you need roofing and architectural cladding supplies, contact our team in Brisbane. Call us on 1300 926 074 to discuss your options and find out what's possible for your new home build or renovation.